In 1940, D.P. Dhar completed his LLB from Lucknow and returned to Srinagar. He had seen tremendous success as a student leader and gravitated quite naturally towards politics in Kashmir.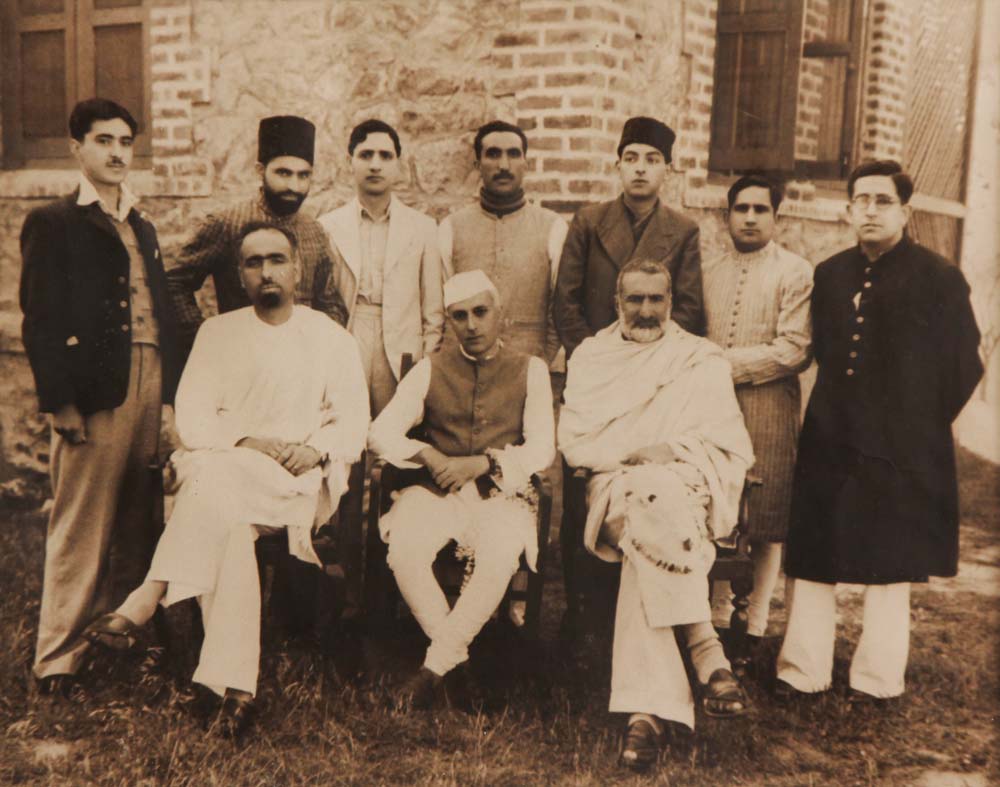 National Conference and the Quit Kashmir Movement
Through the 1930s and 1940s, D.P.'s interest in politics and socialism had led him to forge connections with other like-minded socialists with connections to the Communist Party. Among them were Bakshi Ghulam Mohammad (whom D.P. knew from childhood, having grown up in the same neighbourhood of Safa Kadal), Bakshi's brother Rashid Bakshi, G.M. Sadiq, Motilal Misri, and Pran Nath Jalali. They were all part of the famous communist study circle in 1942 that took place on a doonga (boat) on the Dal Lake and was led by Fazal Elahi Qurban, a well-known communist leader from Lahore, who went on to found the Communist Party of Pakistan. (Read more about this in Andrew Whitehead's interview of Pran Nath Jalali here).
D.P. Dhar's son, Vijay, recounts how a young D.P. joined the National Conference around 1940:
"So this was the time when Sheikh Abdullah had just changed the name of the Muslim Conference to the National Conference. So he was also looking at people beyond the Muslim community… so Sheikh Abdullah later narrated this story to me that he was collecting money for the party. So people were giving him four annas, eight annas, one rupee and suddenly, a five rupee note popped up. And so he took the five rupees and was quite surprised and asked the young man, 'Who are you?' He said, 'I'm DP, Srikant Dhar's son.' Sheikh said, 'You must wait.' Then he took him home. And when he took him home, he told his Begum, 'We have a new entrant in the National Conference. He's the doyen of the Dhar family. Give him a cup of tea.' Then Begum Sahiba later told me, 'I went down and somebody with a loyi on, one of those workers so I said, 'Would you like a cup of tea or a cup of kahwa?' Out came a voice which I still remember that said, 'Ma'am, I would like a cup of kahwa, thank you.' I have never forgotten that.' So that is how he first met Sheikh Abdullah." (As recorded in Vijay Dhar's interview with Tarika Khattar, 5 April 2022)
In May 15, 1946, the National Conference launched the Quit Kashmir movement calling upon Maharaja Hari Singh's government to step down. The regime cracked down on the protestors, with almost 20 people killed and 300 arrested. Among those arrested was D.P. Dhar. Like others from his party, he spent over a year in jail. He was released with Sheikh Abdullah in September 1947.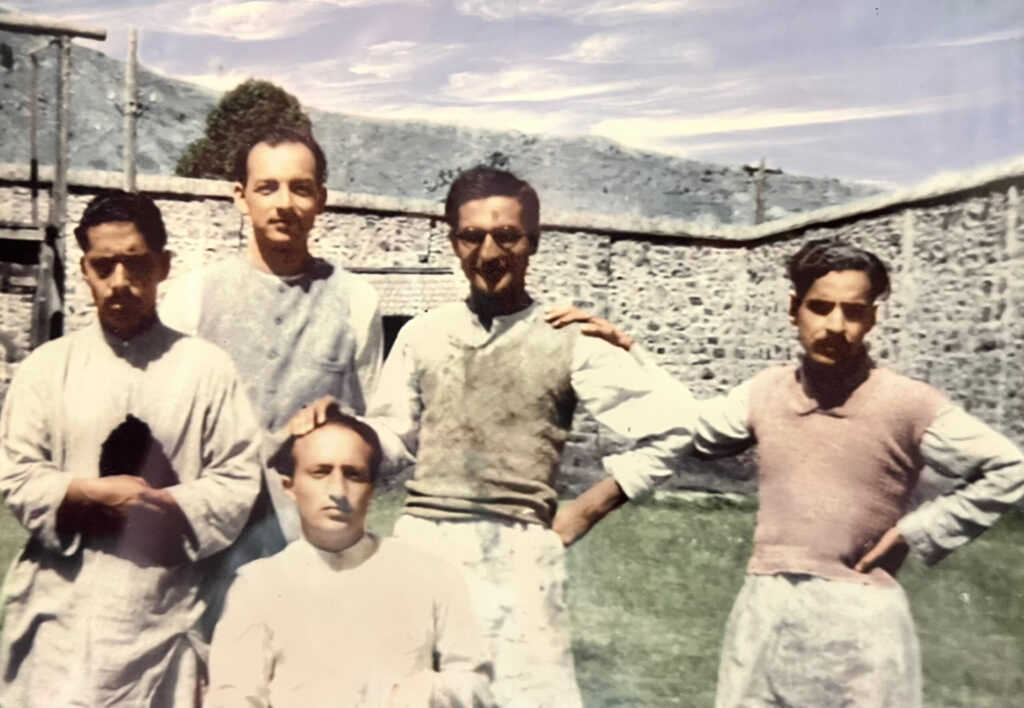 1947: Fighting for Freedom
Dhar had quickly become a leading member of the National Conference. He played a key role in assisting the Indian Army against the Pakistani raiders and forces during the invasion of 1947.
His son, Vijay Dhar narrates an incident recounted to him by Major General Rajinder Singh "Sparrow", who was commanding the 7th Light Infantry in Kashmir during the war:
"There's a story of General Sparrow, who was Major Sparrow at that time. They were in Dras and Daddy [D.P. Dhar] went there. So the Major said he saw some civilian coming on horseback, nice looking man and he came and sat and he started telling us on the map where to go and all. He said suddenly he [D.P. Dhar], turned to me and he said, "Major, take off your shoes." So the Major said, "Why?". So he said, "Major, I'm telling you, take off your shoes now!" It came like a command. The Major said he was not going to listen to a command of a civilian… so the commanding officer said, "Mr. Dhar is telling you to take off your shoes so take them off." Daddy was wearing fur boots and the Major was wearing canvas shoes. His toes had frozen and Daddy saw this, that his leg was getting blue. And when he [General Sparrow] narrated the story to me, he took off his shoe, he took off his socks, and he said this is what your father has done. He saved me because the gangrene was spreading. So Daddy had taken off his fur shoes and given them to him. That was him." (As recorded in Vijay Dhar's interview with Tarika Khattar, 5 April 2022)
D.P. Dhar organised and led the Jammu and Kashmir Militia, also known as the People's Militia, in 1947. He even encouraged his mother, Dhanawati, and sister, Leela, to join the Women's Wing of the Militia. In his autobiography 'I Am Not An Island', Khwaja Ahmad Abbas remembers meeting D.P. shortly after the raiders had invaded the Valley.
"At about noon our little plane landed on the Srinagar air strip. We were met by several army trucks and a jeep which seemed to have been sent for me. It was driven by a handsome young Kashmiri who was in woollen khaki trousers, thick boots, a buttoned up jodhpur coat, a fur cap, and a warm muffler round his neck. He also carried a rifle slung over his shoulder. "I am Deepee," he said which, at that time, meant nothing to me. But on the way to Srinagar he introduced himself more thoroughly as D.P. Dhar, one of Shaikh Abdullah's young men who seemed to be doing a dozen things—from training Kashmiri boatmen and farmers into a militia to keeping track of the infiltrators who were still prowling about the valley, and looking after the intellectuals who were coming in every day. "There are already nearly twenty of them and the guest house number three is fairly chock-full of them. But it doesn't matter. We will get another of the royal guest houses opened for you and those who come after you. Later on, I came to know that he was Lucknow-educated (which meant the slightest Kashmiri accent), was a member of the Students Federation, and a friend of Sardar Jafri about whom he made solicitous enquiries. Finally, he revealed that he was the Deputy Home Minister in Shaikh Abdullah's Cabinet…"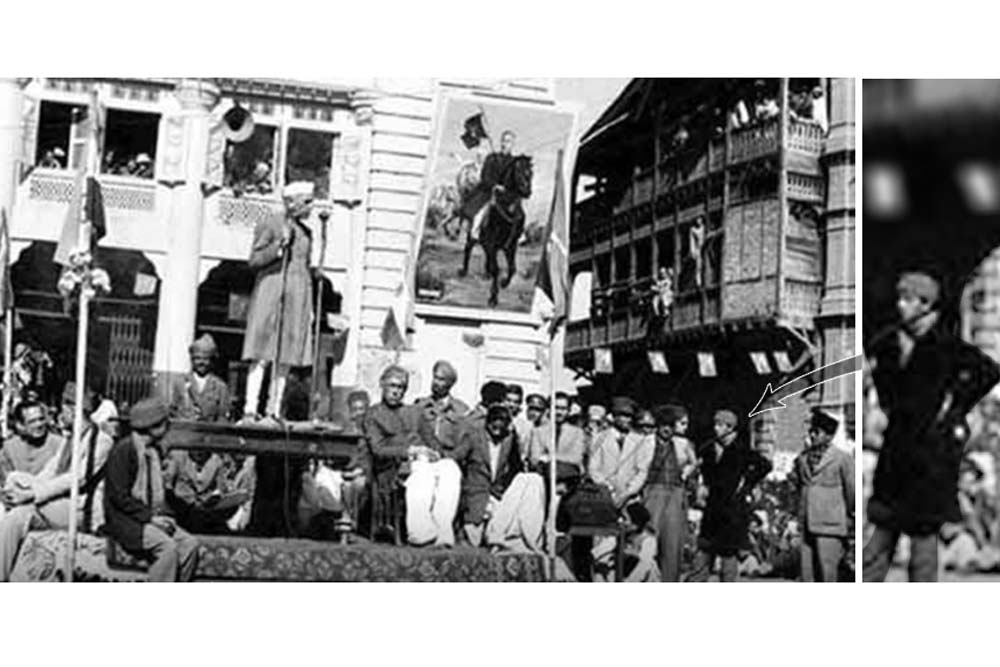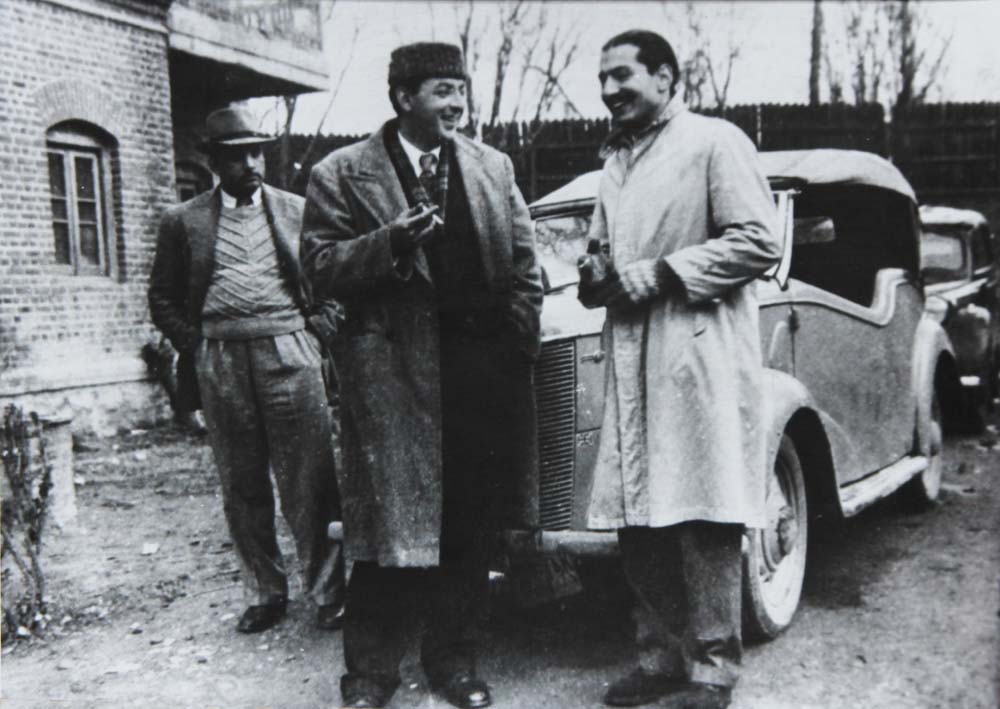 Field Marshal Sam Manekshaw, who was a Colonel at the time, was part of the Directorate of Military Operations and flew into Srinagar with VP Menon and Wing Commander Dewan to accept Maharaja Hari Singh's accession to India. In an interview with Prem Shankar Jha, he recalls that historic night:
"Eventually the Maharaja signed the accession papers and we flew back in the Dakota late at night. There were no night facilities, and the people who were helping us to fly back, to light the airfield, were Sheikh Abdullah, Kasimsahib [Mir Qasim], Sadiqsahib [GM Sadiq], Bakshi Ghulam Mohammed, D P Dhar with pine torches, and we flew back to Delhi. I can't remember the exact time. It must have been 3 o'clock or 4 o'clock in the morning."
With the accession papers signed, Indian troops moved in to defend Srinagar and push back the Pakistani forces to what later became the Line of Control.
Home Minister of Jammu and Kashmir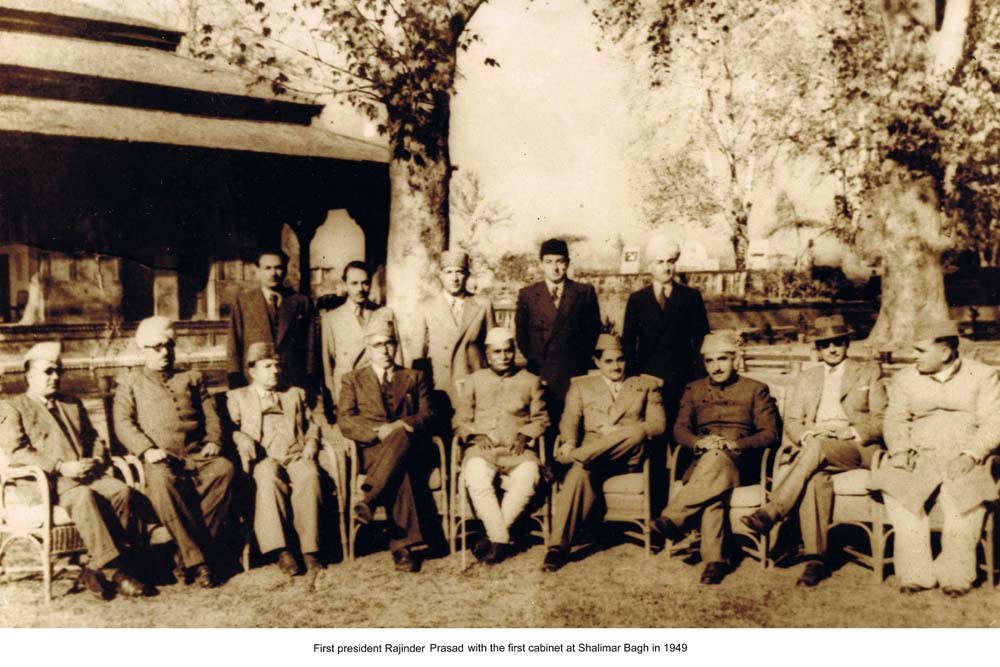 At the age of 30, Dhar was appointed Home Secretary in Sheikh Abdullah's first cabinet of 1948. His leadership of the J&K Militia during the war and his deep knowledge of the Valley, having traveled widely through the region, made him well-suited to the portfolio.
In 1944, the National Conference had released its manifesto, Naya Kashmir, that proposed radical land reforms that would redistribute Kashmir's largely agricultural land. Despite being from a landed aristocratic family, with acres of land across the Valley, Dhar was a firm supporter of the reforms. His socialist principles always took precedence over personal gain, and much to the shock of his extended family and many Kashmiri Pandits, Dhar was among those who drafted and eventually tabled the controversial Big Landed Estates Abolition Act in 1950. The Act redistributed land from the zamindars (landlords) and gave ownership to the tillers who had been subjugated for centuries.
In 1951, D.P. Dhar was elected to the Jammu and Kashmir Constituent Assembly from the district of Kulgam. While in the assembly, he was part of the Basic Principles Committee and the Drafting Committee that eventually created the constitution of Jammu and Kashmir. He served in the State Constituent Assembly from 1951 to 1957.
When Bakshi Ghulam Mohammad took over the Prime Ministership from Sheikh Abdullah in 1953, Dhar was part of his cabinet as deputy home minister and played a key role in stabilizing the government during those tumultuous years.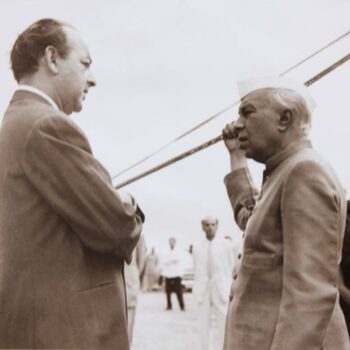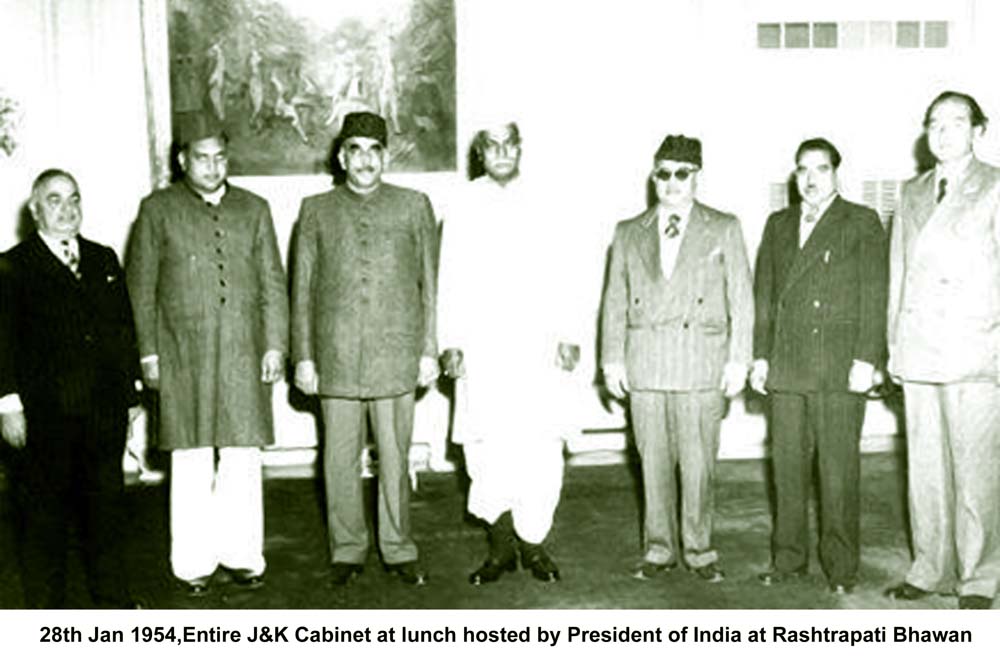 The Democratic National Conference and Beyond
In 1957, D.P. Dhar and G.M. Sadiq resigned from Bakshi Ghulam Mohammad's government and founded the Democratic National Conference. Dhar once again won his election from Kulgam and served in the J&K Legislative Assembly. In 1960, the Democratic National Conference merged back with the National Conference, and eventually with the Indian National Congress with G.M. Sadiq taking over as Chief Minister in 1965.
From 1957 to 1968, Dhar took on various portfolios in J&K including the ministries of Home, Finance, Education, Planning, Industries and Agriculture, among others. He also served on the State's Legislative Council from 1961 to 1968.
In 1972, he was elected to the Rajya Sabha as an INC representative from the state of Jammu and Kashmir.
Representing India at the United Nations
D.P. Dhar was a member of the Indian Delegations to the United Nations Security Council meeting in 1949 and a member of the Indian Delegation to the Paris Session of the U.N General Assembly in 1952.