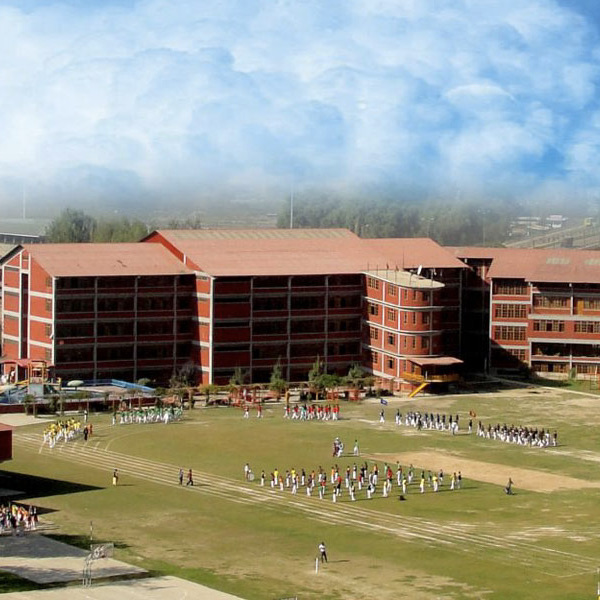 DP Dhar was recognised for his dedication to the people of Jammu and Kashmir. He was committed to strengthening the socio-economic fabric of the state; empowerment through self-reliance. It is in this backdrop that he envisioned education as the singular essential instrument for achieving this goal.
DP Dhar Memorial Trust has built Delhi Public School in association with the prestigious Delhi Public School Society.
"The best way to transfer to society is through education." — D.P. Dhar
2003

March 10, 2003

DPS Srinagar opens

October 3, 2017

Satya Devi Resource Centre for the Visually Impaired

2017
Delhi Public School Srinagar

We start very young in the Delhi Public School Srinagar. The Nursery wing which caters to the children from LKG to class II is one of the best in the country with its own activity room. Two computer rooms a Library which has more than 10,000 books and yoga centre and a canteen. The Nursery block is done in vibrant colors and the children enjoy the digital entertainment and the creativity of these little souls is explored by holding workshops.
The middle school caters to the children from class III to class VI. This also has a large computer room. A library in two floors which today has more than 25,000 books. An audio visual hall for children to see movies. A home science room which also caters to lessons in cooking. A multi science laboratory. A music room, a dance room and a canteen which caters to the children. A book shop and a medical centre which has a dental chair an eye clinic and pathology lab.
The senior wing which caters to classes from VII to class XII is very beautiful and fully equipped. A computer lab is multimedia room. A v- satellite which caters to schools own internet facility. Physics, Chemistry, Biology laboratories and the most unique English lab., and a mathematics lab. Added to all this a fine art centre.
In addition the Delhi Public School has two educational centres for the sepecially abled, and visually impaired children. The school runs Satya Devi Resource Centre for the Blind to train visually impaired people.

The school takes pride in having of three libraries with more than 70,000 books, An e-library connecting various world libraries, state of art science and computer labs, including a fully computerised language lab. The Delhi Public School, Srinagar is 100% solar-powered. It also has its own heated swimming pool and a water world for small children.