Sh. D.P. Dhar – An Unobtrusive Politician Diplomat of Kashmir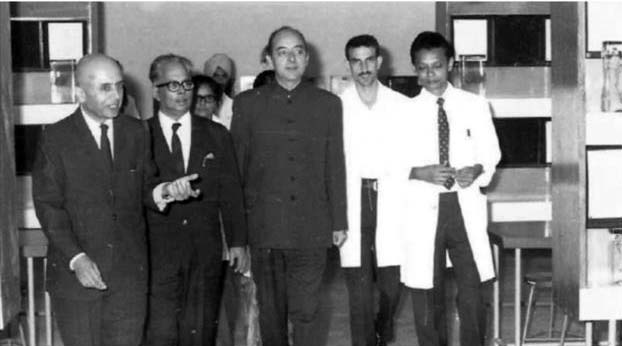 The significant ramifications of Kashmiri Pandit agitation in 1967 and its aftermath was the shifting of Durga Prasad Dhar, popularly known as DP from the State Home Ministry to Forest Ministry in the State cabinet by G.M. Sadiq the then Chief Minister of Jammu and Kashmir. D.P. Dhar was said to have been unhappy with the sudden change of portfolio in the state cabinet. He aspired to be in the central government headed by Indira Gandhi, who had a need for some all-purpose points men to tackle many critical issues that came up for urgent attention. On getting the
inkling about DPDhar's choice being in the Centre, Indira Gandhi appointed him Indian Ambassador to the USSR in 1969. Being a strewed politician in the cradle of Kashmir politics, he was most trusted and confident of Indira Gandhi.
On taking over the charge of Indian Ambassador to the USSR IN 1969, DP Dhar presented his credentials to Leonid Brezknev, party First Secretary, Aleksey Kosygin PM and Nikolay Podgomy President in Moscow as per the diplomatic protocol. Completing the requisite formalities of meeting the dignitaries in Moscow, DPDhar flew to New Delhi to apprise Indian PM and Foreign Ministry policy planners of his assessment about the ruling grandees of the USSR. While being in New Delhi, DP flew to Srinagar for a short visit. His arrival in Srinagar became known in political circles, though the press at that time in Kashmir was fairly rare. The next morning a group of taxi drivers Mohd Yusuf, Gh Ahmed Nishat, Gh Qadir British and Mohd Sultan from Hotel Oberoi (now Hotel Lalit) had come to meet him at his residence Taaleya Manzil, at Gupkar Road, Srinagar. D P Dhar, designated Indian ambassador in suited dress, received them so warmly, hugged them, and sat with them in the drawing-room (Whit private house with a big smile. He talked with them at their level in typical local dialect without any reservation. In the course of the conversation, D P asked them fora cigarette to puff? Drivers fumbled in searching their pockets to get a single fag to offer him. Mohd Yusuf took out a Charminar cigarette packet to offer him a cigarette sheepishly as the quality of the cigarette was lowest. D P picked up the cigarette openly without any hindrance and demanded the matches to light it. Nervously, the other driver swiped the match stick on the strip of the box to help D P to lit the cigarette. Their intercommunication was so intimate that the drivers were overwhelmed with D P Dhar's humility. This was one of the greatest traits of D.P's personality which made him popular in the rank and file of the Congress party in the state. D P was endowed with unmatchable political and organizational skills to mix with a common class of people and fix a personal bond with them.
Over D P's range of mental adaptability, PN Dhar, former Economic Advisor to Indira Gandhi had remarked that D P had the rare ability to listen to fools as well as knaves calmly without losing patience or showing signs of irritation.
D Ps political contemporaries and observers remarked that he would often relish to visit Nagin club to enjoy the panoramic view of Nagin Lake or to Hotel Oberoi to get an overview of the Dal Lake in seclusion if and when he desired. He had a brilliant aesthetic sense and deep love for spiritual poetry, in spite of his being leftist to the core. Kamala, the guide of the then Hotel Oberoi, revealed how D P Dhar gave his clothes, and jacket to the impoverished villagers who came begging to him when he was fishing in river Lidder enroute to Pahalgam. D P Dhar had no money in his pocket and did not want the beggars to return empty-handed; so, he spared his personal clothes as the choice to give them. He retained bare minimum clothes to cover his body for reaching home in his car. While on the way back home, D P expressed to Kamala that one carries kind acts of alms with oneself to the other world. The rest of the acquired property and wealth remains here. Kamala added that D P was full of solicitude and liberal in behaviour and in thinking throughout his political career.
D P. Dhar had remained a frontline politician, always involved in political manoeuvring and in strategic operations in the J&K state. Whether it was a Pakistan attack on Kashmir in Oct 1947, he was there to marshal National Conference volunteers of Kashmir across religious lines to protest against Pakistan intrusion through tribal raiders? D P Dhar was in military fatigue at Batamaloo area to monitor the Indian Army operation to flush out or liquidate Pakistani infiltrates in 1965 who had set on fire the houses of locals and had killed innocent people. It was D P Dhar's acumen to handle with diplomatic finesse the international press lodged at Nedous Hotel at that time to flash the Batamalloo operation in favour of India. He was said to have got pat from the PM office the following morning when BBC announced the news without pointing fingers at India.
In military retaliation against Pakistan's nefarious design, the Indian army captured Haji Peer Pass in 1965 and D P Dhar was again there at the hoisting Indian flag ceremony at Haji Peer with Indian army top brasses to celebrate Indian victory. In the political arena of wooing the voters in the 1967 election in J&K, D P Dhar was a powerful locomotive to win 26 assembly seats for Congress in Jammu province out of 31 sea., despite two major opponent parties being in the contest. For conspiring electioneering in Jammu province in support of Congress, D P Dhar had a prolonged stay in Jammu and met politicians across the party line to lure their sectional vote bank towards Congress candidates. This resulted in a majority mandate of 61 seats for G.M. Sadiq in the J&K Assembly out of 75 seats.
His political insight, perception, and judgment was so sharp that he was appointed as Home Secretary and later Home Minister of Kashmir in 1947 under Shiekh Mohd Abdullah, the PM at a fairly young age. His political wisdom and understanding won him a place among the Indian delegation to the United National Security Council in 1949 and as member of the Indian delegation to the UN General council, Paris session in 1952. Contemporary Observer said that D P Dhar was the key figure in the political change that occurred by dethroning Shiekh and in installing Bakshi in 1953. Dr Karan Singh, former Union Cabinet Minister, describes in his book "HeirApparent" that D P Dhar had an incisive mind and was an excellent planner. D P was a superb tactician who was at his best in fluid situations of politics. Dr Karan Singh admitted in his book that Pt. Jawahar Lal Nehru liked him and had regards for his political judgment. Shiekh in his book "Atish-e-Chinar" completed by M.Y. Teng has described D P Dhar master in spread of political Fitna (disorder, discord and affliction).
During his political career in J&K, he worked with Sheikh, Bakshi and Sadiq as member of state constitution assembly from 1951 to 1957 and as a member of the State Assembly from 1957 to 1967 and was Cabinet Minister of various portfolios. R K Kak, veteran journalist of Kashmir had perceived that D P Dhar had fantastic memory and carried a graphic image of every nook and corner of the valley and about the political activists he met during the course of time.
D P was said to have been invested with an ability to talk to soldiers, politicians, journalists and radicals of different shades. But the Kashmiri Pandits were unhappy with him in 1967 agitation for being non supportive in the ruling dispensation, despite being himself Kashmiri Pandit. D P Dhar was also alleged for annexing Muslim population outskirt enclaves with Habba Kadal Assembly constituency to reduce the weightage of Kashmiri Pandils electorate at the behest of G.M. Sadiq and his Muslim majority composition of his Ministers. Yet it was his ability to save nearly twelve hundred Pandit state employees from getting dismissed who were jailed by state authority indiscriminately to crush 1967 Kashmiri Pandit agitation. Some Pandits admit that he had helped many community boys in their admissions in professional colleges and arranging their jobs without making any fanfare of his concern for the community. In the latter months of 1967, D P Dhar was uncomfortable to continue in the government headed by G.M. Sadiq and desired to work in the National political arena. His strong role in the politics of Kashmir nearly for 20 years had attracted him to Indira Gandhi who was in search of an all-purpose, versatile point's man to tackle many critical issues. Indira Gandhi announced D P Dhar as an Indian Ambassador to the USSR which was a political appointment. Probably, his appointment that time would not have been taken lightly by the mandarins of the external affairs bureaucrats. But his considerable social grace, and acute intelligence helped him in quick establishment of his authority in the corridors of core power blocks of diplomacy,
P.N. Dhar Economic advisor to Indira Gandhi remarked that the task of D P Dhar was formidable, but he was eminently qualified to undertake it. His winsome manner, his brilliant sense of humour and his acute intelligence were all invaluable assets in his new job. His tenure from 1969 to 1971 as Indian Ambassador to USSR Russia was exceedingly diplomatic. With his subtle prudence D P Dhar, could manipulate a series of meetings with USSR Russia, communist leadership, diplomats of various shades and Army generals to frame a draft for twenty years of lndo-Soviet Friendship Treaty which proved most suitable internationally for India. Possibly, Indian operation of breaking East Pakistan later called Bangladesh from West Pakistan would not have been achieved in 1971 without the support of the super power block. His diplomatic triumph and thoughtfulness in the international arena made him well known and he was recalled from the USSR and appointed Chairman Policy Planning Committee in the Ministry of external affairs. He had a pivotal role in mobilising international support in favour of Bangladesh and had the temerity to bypass the Minister Sardar Swaran Singh to report directly to the PM.
He was a key man in construing the idea of 1972 Indo-Bangladesh treaty for peace, friendship and cooperation.
In 2012, D P Dhar was posthumously conferred the Liberation War Friendship Honour in recognition of his illustrious contribution in mobilising international support for Bangladesh by Ziaullah Rehman, the President. Over and above, he had a special role in the liberation war.
His another dutiful attainment was drawing of a roadmap to Shimla Agreement in 1972, in his first parley with Aziz Ahmed, Minister of State for Foreign Affairs in Murrey. Soon after landing in Lahore, he visited Lahore market to purchase books of Dr lqbal and established contacts with his old political associates of Kashmir movement including Effendi. Because of his illustrious negotiating flamboyance and his self-contained sixteen points draft with emphasis on the durable peace in the sub-continent as compared with tvvelve-point draft of Aziz Ahmed caught the attention of Z.A Bhutto who seized the opportunity to have unscheduled meeting with him. Kuldeep Nayyar, journalist, disclosed that D P was desirous to talk in chaste Urdu to make the parley more informal but Aziz Aluned was weak in Urdu though, Urdu was their national language. In Shimla, Sardar Swaran Singh and P.N. Haksar were inclined to give Z.A. Bhutto some option whereas D P Dhar was insisting to include Kashmir in the agreement. After his consecutive leaps in finalising the treaties at the international level, his popularity grew manifold in the country and World over. Elected MPs were said to have made a beeline to his official residence. Political watchers were of the view that his coming to light as a tough political and strategic negotiator, caused tremors in the power verticals of New Delhi. Therefore, he was intentionally nominated as Deputy Chairman, Ministry of Planning to downsize his political zenith that had grown by then. D P Dhar was not academically an economist so his tenure as Deputy Chairman Planning turned 001 10 be rough time. Consequently, he was redesignated as Indian Ambassador to USSR; which was against D P Dhar's choice.
On the country front, Parthasarathy-Beig talks were in progress in 1973-74 to hand over reins of the restive state of J&K to Sheikh with Congress support. Shiekh was bent upon reviewing all state laws passed after 1953 in the state and retook at the nomenclature of Governor and Chief Minister. On overcoming these predicaments, Shiekh became the CM with Congress support in the Assembly and soon after he started his Kashmir centric politics to woo his core group within the National Conference. In 1975 Indira again deputed D P Dhar to negotiate with Shiekh the nationalist commitment given by him in the Beig-Parthasarathy talk. DP Dhar landed in Srinagar in early 1975 on his mission to deviate Shiekh from backtracking the laws which were already passed in the state. And the meeting between Sheikh and D P. Dhar was fixed at Alison Motors place. It was said that Shiekh was very unpleasant with D P Dhar while discussing disputed issues though both were politically associated from the time of Quit Kashmir movement and as Minister of State under Shiekh premiership. Apolitically close confidant divulged that D P Dhar could not digest the remarks shouted upon him by Sheikh, which later became the cause of his heart attack and he breathed his last on 12th July 1975 at the young age of 57 years.
The article was first published in the December 2021 issue of NAAG – A Monthly Publication of All India Kashmiri Samaj.