Hemant Singh remembers D.P. Dhar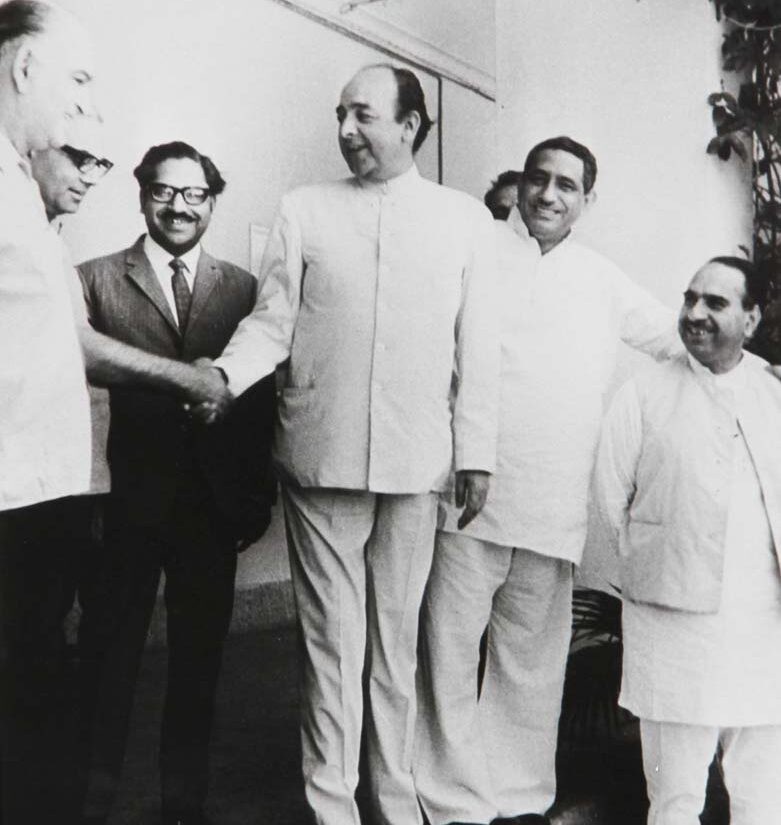 Besides the Presidency Universities of India, namely Calcutta, Bombay & Madras, there were two more universities of excellence, Allahabad & Lucknow. It is said that Allahabad was considered the Oxford and Lucknow the Cambridge of the East.
The doyen of Lucknow University viz, D.P. Mukherjee had once famously regarded Lucknow University as the largest producer of 'victims' of Civil Servants namely Indian Civil Servants and the Imperial Police Service. Mr D.P. Dhar was a shining example of this tendency. Tall, fair with a baritone voice, he could mesmerize students and sway them against the British rule and towards the National Freedom Movement with an ease few could master. He was a rebel and a very radical student leader, as the President of the Lucknow University Student Union, he organised memorable meetings to welcome Mahatma Gandhi, Jawaharlal Nehru, Rafi Ahmad Kidwai etc, at the Lucknow University Campus against the strict, ruthless orders of the British.
Pandit Nehru was very impressed by Mr DP Dhar and recommended him for influential positions within the Indian National Congress in Jammu & Kashmir. After that, it is said that Mr DP Dhar was chiefly instrumental in migrating the state of Jammu & Kashmir to the Union of India.
His role in Operation 'Rescue' during the J&K War of 1947-48 is an example of his radical thought process – Sam Manekshaw accounts "It was on the night of 26 October 1947 that the Maharaja signed the instrument of accession to India and VP Menon and I flew back to Delhi that very night, with Sheikh Abdullah, Bakshi Ghulam Mohd, DP Dhar and others lighting up the airstrip with pine torches. (Refernce 1)
Mr DP Dhar was a multifarious personality; he was popularly known as DP amongst his friends and colleagues. It is not very well known that he was also a shayar (Urdu poet). He used to write under the pseudonym Raunaq. A couplet written by Raunaq goes:
Bazm-e-Khoobaan se mujhe soo-e-biyabaan le chali
Kis qadar vehshat talab taseer iss ki dekhnaa
DP Dhar was the mastermind behind the diplomatic strategy which led to the creation of Bangladesh. He also played a central role in reconciliation talks between India and Pakistan after the conflict.
He was a top policymaker and India's Ambassador to the Soviet Union. I met him once as a student in Germany, while he was on a state visit. I travelled from the campus of Otto von Guericke University, Magdeburg to the Indian Embassy in Berlin. The then Indian Ambassador to Germany, tried his best to dismiss me, while I was in the midst of trying to convince him that the Ambassador would be happy to see me, Mr Dhar entered the room and the bureaucrat had no choice but to introduce me, 'Mr Dhar, he is a student wanting to meet you" and moved out of the way. I stepped forward and introduced myself "Uncle, main Hemant hoon" (Uncle, I am Hemant), he embraced me at once and said, 'Hello Hemant, how are you?". What followed was a very memorable and pleasant time in his excellent company.
Mr Dhar invited me to a state dinner he was going to at the Ambassador's house. He opened the rear door of his car and asked me to get in. He offered me a cigarette and a peg of Johnny Walker.
While departing he asked me "Hemant, where will you stay?" While the Ambassador to Germany may not have been pleased that I could manage to meet Mr Dhar, he offered to take care of me while I was in Berlin. This was my first experience of his legendary and warm hospitality.
Mr Dhar's private secretary, Mr Fotedar asked me in private "Hemant, tell me did you face any problem in securing an appointment with Sir?" to which I said "Haan, thodi si mushkil hui (Yes, a little bit)". Mr Fotedar was a very shrewd person and he understood at once and said "Bataiye, yeh doston ko bhi nahi milne dete (Tell me, they don't even let friends meet him".
During his student days DP Uncle, studying law at the Lucknow University and his dear friend, my father, Dr VB Singh who was studying economics, were both active student union leaders at the Lucknow University. Their friendship spanned a couple of decades until his death in 1975.
DP uncle and Rani Bhabhi (the only ambassadorial wife, who insisted that she should not be called 'madam) were legendary for their hospitality. My father used to visit Moscow very often to attend Academic Conferences and DP Uncle's standing order was that whenever he is in Moscow he should stay at his residence, even in his absence. He would send a car to receive and drop my father to the airport.
As a principal aide to Prime Minister Smt. Indira Gandhi, DP Dhar was instrumental in the Indo Soviet friendship treaty which was very crucial during the Indo-Pak War of 1971.
Once when Rani Bhabhi was travelling back from Bangladesh, there was a storm which diverted her aircraft to the Lucknow Airport. Relatives were concerned for her wellbeing, but DP Uncle said, "Don't worry, I have an old friend in Lucknow who will take care of Rani Bhabhi". He cabled Indian Airlines my father's contact details and instructed them to get in touch with him for further arrangements.
As a tribute to his friend Shri VV Giri the 4th President of India, Mr DP Dhar along with a group of eminent social scientists and leading public personalities established the Giri Institute of Developmental Studies in Lucknow. My father Professor VB Singh, a well-known labour economist of his generation, was the founding Director of the Institute.
Since its establishment, the Institute has emerged as a vibrant centre of policy-oriented and analytical multidisciplinary research in the country. GIDS is supported by the Indian Council of Social Science Research (ICSSR) and the Government of Uttar Pradesh as an autonomous institute of national importance.
Mr DP Dhar headed the first Board of Governors of GIDS and had eminent social personalities and scholars like Naval H. Tata, Malcolm S. Adiseshiah, Baljit Singh and Nagendra Singh as its members. Later on, a wide range of distinguished intellectuals and policymakers have been a major part of the governing body of the Institute. They included Professors PN Haksar, Yashpal, Nityanand, SR Hashim, Yogendra Singh, YK Alagh, GS Bhalla, Ravi Srivastava, KP Kannan among others.
The institute regularly organises memorial lectures on relevant social science topics in honour of Mr DP Dhar, Prof VB Singh and Shri VV Giri.
Hemant Singh retired as Deputy Director at CDRI Lucknow.
End Notes
Preface by Sam Manekshaw in the book Jammu and Kashmir War (1947-48) – Political and Military Perspective , author Major Gen K.S. Bajwa