P.N. Dhar: "D.P.'s task was formidable but he was eminently qualified to undertake it"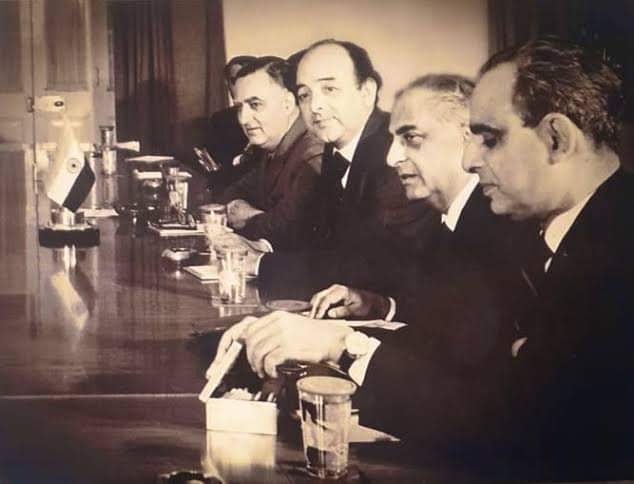 Excerpts from P.N. Dhar's Indira Gandhi, the 'Emergency', and Indian Democracy, Oxford University Press, 2000.

Page 28
Barring Professor Jaya Lal Kaul, who taught English, none of our teachers was outstanding, though most were devoted to their students and always available for advice. But with none amongst the converse on the kind of political and economic problems engaging us. We had to go outside the campus in search of such people. At this time, along with some of my classfellows, I came in contact with Ghulam Mohammad Sadiq, a young and upcoming Kashmiri politician with radical views. He was very unusual among Kashmiri politicians. Not a great public speaker like Sheikh Abdullah—who could sway the masses whichever way he liked—Sadiq was too sophisticated to be a mob orator and too honest to resort to catchy phrases. Nor was he an organization man like Bakshi Ghulam Mohammad, for he was too aloof to be on backslapping terms with party workers. Sadiq was an intellectual who believed in the power of ideas. His ideas were not mere abstract notions culled from books, but rather ideas wrested from a deeper understanding of the problems of Kashmir, Under Sadiq's influence we became more and more interested in Kashmir's politics. My own interest in these ideas remained deep within me and found realization much later, when I moved out of Kashmir. As for the rest of our group, within which D.P. Dhar was the most prominent, several joined the National Conference and became colleagues of Sadiq. Another prominent member was N.N. Raina who joined the Communist Party and established a party cell in Kashmir.
I continued my association with Sadiq. He introduced me to B.P.L and Freda Bedi, and to K.M. Ashraf. The Bedis were regular summer visitors to Srinagar, their activities being centred around the top political leadership, especially Sheikh Abdullah. They were as couple and too elite for the politically uninitiated. My them was brief but intense and fateful. I was asked by Sadiq to help Bedi in the preparation of a document on political and economic reforms for the National Conference. The document, called 'New Kashmir', was later adopted by the Conference as the sheet anchor of its ideology and became part of its programme of action after it came to power in 1947. I did nothing more than assemble some data and prepare a few notes for Bedi. That was the end of my contact with him. Though mine was a minor contribution, the police found this out and put me under Category B' of political undesirables.
Page 105
Within a few minutes of my arrival at the deserted terminal build a convoy of cars drove up and, after the dust settled, D.P. Dhar (state home minister), Sushital Bannerji (development commissioner), Mangat Rai (chief secretary) and Nayantara Sehgal (Jawaharlal Nehru's niece) became visible. We were all led to the spot on the runway where two helicopters were ready to take off. We were about to get in when the siren went off and we were ordered to lie in ditches some distance away. We had to do this thrice. After an hour or so we shook off the dust and got into the helicopter, all except Mangat Rai, who had come to see off his friend Nayantara.
During the flight our helicopter seemed to hug the Pirpanjal mountains. We flew so low that we could see the mountainsides, rock by rock. At Udhampur we were transferred to an airforce Dakota which took a most circuitous route to Delhi. Once again we flew very low so as to stay below the reach of Pakistani radar. It was nerve-racking to find oneself flying just over treetops, but D.P. Dhar kept us all in good cheer with his banter, assisted by much whisky, which he had thoughtfully brought along. He was at his best when a Pak airforce plane flew over us, which it did twice.
Page 168-169
The Khalifas formed a separate organization which they called Mujib Bahini. They were afraid that the leadership of the resistance movement might pass from the Awami League into the hands of the Mukti Bahini, which might turn sectarian under Leftist influence. Thus there was every danger of a clash between the two Bahinis. With the help of the Communist Party of India, the pro-Moscow communists organized a guerilla force of their own as a counterblast to the Mujib Bahini. The pro-China communists, who were in a state of confusion on account of China's support to the Pakistan military regime, splintered into several sub-groups. The group that attracted some notice was the one led by Mohammad Toaha. He stayed back with his group and claimed he was fighting against the Pakistan army as well as the Mukti Bahini. According to him the Awami League movement was part of the conspiracy of Soviet social imperialism and Indian expansionism.
This state of affairs was alarming. Clearly, there was an urgent need for these diverse groups to coordinate their activities if they were to succeed in their common and cherished goal of liberating Bangladesh. This was also in our own national interest since fissures in the resistance movement could cause it to spin out of control and create anarchy in a region of India which was already in a state of turmoil. The provisional government could not undertake the task of coordination without Indian assistance. After much reflection Mrs Gandhi gave the task of helping the provisional government in these matters to D.P. Dhar who was then Indian ambassador to the Soviet Union. D.P. was recalled and appointed chairman of a policy planning committee under the auspices of the ministry of external affairs. This one-man committee was solely concerned with the Bangladesh crisis.
D.P.'s task was formidable but he was eminently qualified to undertake it. His winsome manner, his brilliant sense of humour, and his acute intelligence were all invaluable assets in his new job. He had the gift of flavouring his exposition of the same theme with subtle nuances in order to reassure and satisfy interlocutors of different shades of opinion. He also had the rare ability to listen to fools as well as knaves calmly, without losing his patience or showing signs of irritation. He could talk to soldiers, politicians, journalists and radicals of different hues in their own idiom. The five Khalifas, who at first refused even to meet him because they suspected him of being a communist, ended up as his admirers. Besides face-to-face meetings with various Bangladesh leaders, D.P. institutionalized his communication with the provisional government by stationing an officer in Calcutta for regular contact with the provisional government in Mujib Nagar.
Page 300
On the fateful day of 12 June 1975 I was roused from early in the morning by a call to say that D.P. Dhar had died. DP was our ambassador in Moscow and had come for official consultations to Delhi, where he took ill and was admitted to the Govind Ballabh Pant hospital. I was devastated by the news. DP and I had known each other since our college days in Srinagar. I had seen him just the previous evening; he was to get a pacemaker the next day. He showed no anxiety about himself but was much bothered about the political situation in the country. When I'd left him he'd held my hand a long time and given me a long, silent look. That look haunted me for a long time.
I got ready as quickly as I could and rushed to the hospital. Upon arrival I found Indira Gandhi already there, giving instruction the funeral and various other arrangements. Leaving the hospital, I tried to reach DP's wife in Moscow. It took my office a long time to contact the embassy and when at last I got the connection and was speaking to DP's wife, Sharada Prasad rushed into my room and in an agitated voice shouted: "The Allahabad judgement has come and the prime minister has been unseated.' It took me some time to absorb the meaning of what Sharada Prasad was saying as my heart was hewn and my mind crowded out with memories of DP.